SELF(ISH)
On my baby Grand Tour, in August of 2018, by celestial serendipity, I met a French portrait painter, who trained and practices in Florence. His offer to paint my portrait was the catalyst of my ongoing practice - commissioning this single person to paint my own self-portraits. Outsourcing the physical action of painting, to procure an unknowable insight into my 'self'. Looking, for a considerable time, at these portraits, to excavate truths and fictions of how I am seen, only accessible through the filter of another's brush. Picking at the wound of an inevitable exchange of gaze between myself and my painter, buying his attention (but not his affection). And at the centre of all this exchange of looking and likeness, writing.
Writing, to write myself in and out of liking him. Writing, to feel the friction of the lost location of my sacred, painted world. Writing, to pour myself into the poetic space of my paintings that I did not paint, so porous beyond their superficial planes of landlocked girls who look like me. Writing myself into poetry.
In performance and installation, I play with the privileges of looking and limitations of seeing, and the difference between vision and sight (I have a degenerative eye disease, which is tangled and tethered to this obsessive practice of needing to be seen). And I write my way through all this seeing and being.
The Roses In My Closet (Installation Detail)
March 12-14, 2020
Documentations of the artist sitting for portraits, hand-bound book, faux-rococo armchair, borrowed rug, kicked-off shoes
Dimensions variable
The Roses In My Closet (Performance Detail)

March 14, 2020
The artist's oil portraits setting a backdrop for readings of collected essays on the experience of sitting for the portraits; rug, chair, and kicked-off shoes imitating the composition of one of the portraits hanging behind
Dimensions variable
Patron Saint of Myself
(Portrait of the Artist After Fra Filippo Lippi)
October 11, 2018
Florence, Italy
Performance for portrait, oil on linen
One sitting (8 hours) / 54.3 cm x 65.5 cm x 32.2 cm
Nine of the ten performances for my portraits worked from live sittings in Florence, between August 2018 and April 2019. Before each sitting, I would visit the Uffizi, to draw inspiration in tone and expression from a classically-charged painting. The praying palms of Lippi's Madonna served as a focus for serenity of the self, by bringing my palms to my own face.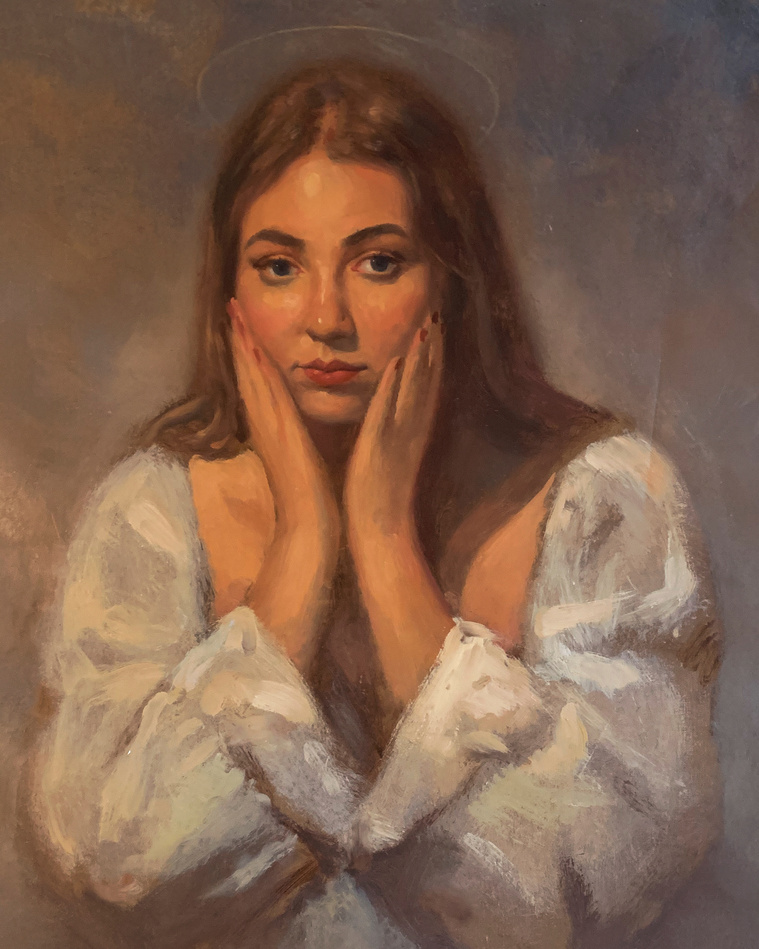 Portrait of the Artist as the Painter
April 2-4, 2019
Florence, Italy
Performance for portrait, oil on linen
Three sittings (13.5 hours) / 60 cm x 70.3 cm x 2.2 cm
To engage in play with the popular image of 'the artist,' which looks nothing like my studio practice, I dressed and posed in the image of the 'great' painter. Painted in duality with another portrait of the same size, teasing through the the dichotomic reality of popular conceptions of an artist, versus my own, actual studio practice; largely formed by reading.
I am obsessed by the projection of the self, and each portrait is an exercise in telling the viewer things about myself that I cannot so easily say; but, also, to play with narrative, storytelling, and the space between reality and unreality.
Fact: I believe in fiction.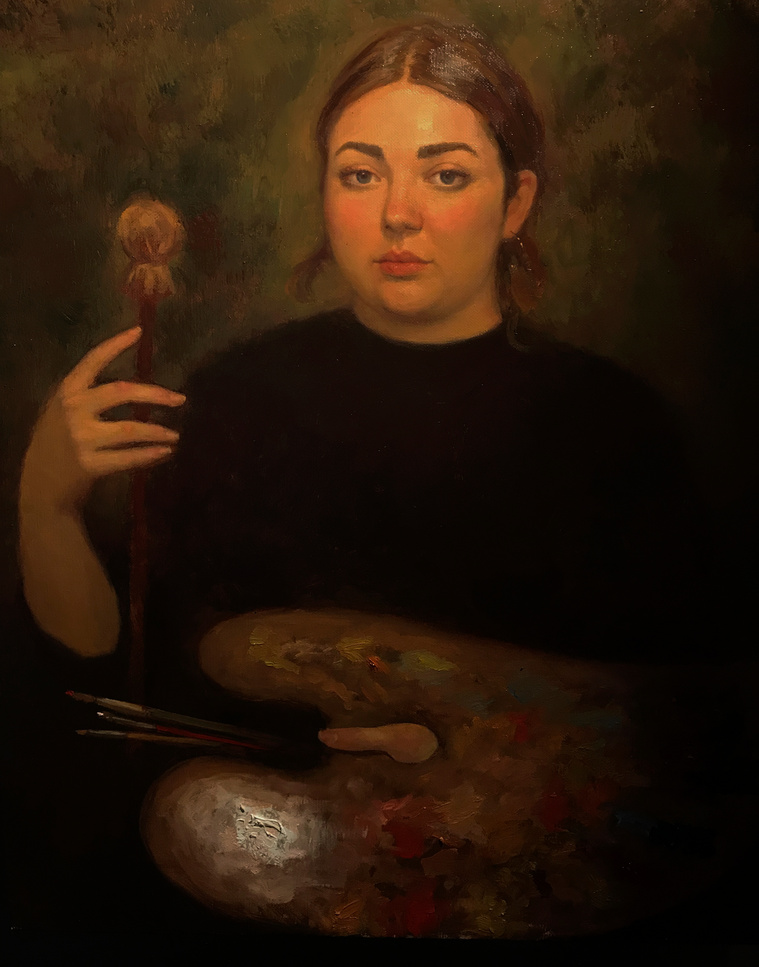 Obvious Prophecies
(Portrait of the Artist After Synagoga)
February 8, 2019
Florence, Italy
Performance for portrait, oil on wood

One sitting (7.5 hours) / 44.3 cm x 50 cm x 0.8 cm
My work is centred around themes of nostalgia, longing, and unlocking myself from a particular moment in time. I erase myself from a specific moment by locating my image in a lost representation between classical and romantic movements.
With my degenerative eye disease, I gradually lose more and more sight, across the span of my life. In this image, I implicate my body to its own blindness, hasten my blinding in attempt to control it. But through the historical imagery, I play with the trajectory of my own body, my self's place inside it, and my outward identification with an invisible disease.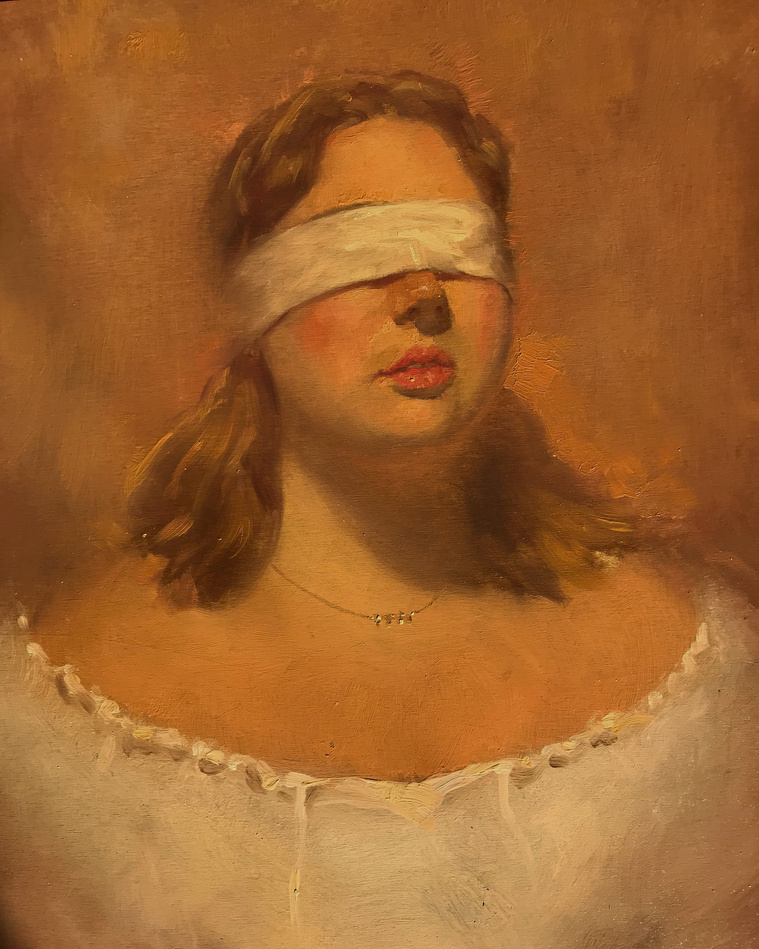 Portrait of the Artist Without the Artist
Commissioned October 7, 2019 / Opened January 2, 2020
Between Florence, Italy, and Toronto, Canada
The artist placed in the painter's memory and image, oil on linen, maps of Florence and Canada on A4 paper, ink
No sittings / 50.5 cm x 70.5 cm x 2 cm
The tenth portrait in the collection, and the only portrait for which I did not sit. I asked my painter to paint me from memory, to paint me through his eye. To fully submit a manifestation of myself to someone else's conception of my likeness and my self. My only instructions were to paint me without looking at me, and to place me how he'd like to place me.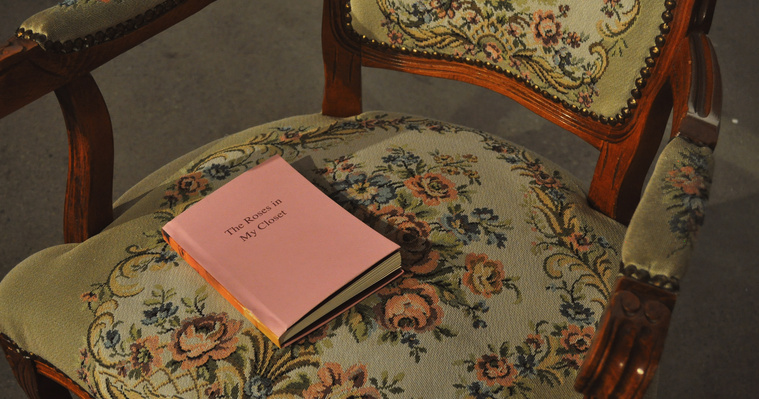 The Roses In My Closet: Unfictions
A collection of creative nonfiction essays, teasing though the experience of commissioning ten oil portraits, my relationships to my portraits, and my relationship with my painter.

Written between October 2018 and March 2020
Commissioned hand-bound book, March 2020
74 pages
Cover of The Roses In My Closet
Featuring sliver of a portrait
The Young Girl Is So Psychological (Portrait of the Artist After Lucy Honeychurch and Bronzino)
February 6-7, 2019
Florence, Italy
Performance for portrait, oil on wood

Two sittings (9 hours) / 44.3 cm x 50 cm x 0.8 cm
Readings
Performed in the gallery, in front of a salon-style installation of all ten portraits, the recited text is as ephemeral as the moment of each portrait sitting. While the text is as constant on the page as each likeness is locked in its painting, both readings and sittings are as inconstant and evolving as the moment of the person performing them.
Readings of the book are approximately one hour and fifteen minutes. Performances were open for the the public. While four performances were scheduled, only two were able to be fulfilled before beginning sheltering-in-place; performed on March 13th and 14th, 2020.
I Get High And Write Our Fantasy

I get high, and behind struck and shrunken eyes, write a half-life fantasy of our future lives.
Our, as in our, a collection of mine and your hours.
I see myself in March, in my gallery, sitting fold-legged in my faux-provincial armchair, with the embroidered back panel of two young lovers in a springtime faux-Rococo.
I'm in the gallery, on the chair, on the rug, shoes kicked off, like in your last painting of me. And I'm under a spotlight or two, with all your paintings of me tethered to the wall behind me. And I'm reading from my handmade book filled with all of my favourites of our stories. Our, as in our moments together, filtered through the brush of my homilic-mind's fantasy.
I'm reading from my book, telling the open wound of that intimate group my stoic, stolen fantasy.
And this escalates from prophetic vision to fantasy when my mind shows me you, watching me.
And it shows me so many funny things, like you coming to Toronto to see my thesis show, and you staying with me. You, in my apartment, kneeling before my easel with my glass plate palette and my kitchen olive oil, painting me.
And I'm inviting you to visit, deciding if you rent a night or two in my apartment's guest suite room, or if you stay with me. And we're having a conversation about us both knowing why you're here, and you put your money on me.
No, you don't put your money on me, you put your money away, tell me to put my money away, and you paint me.
You paint me to tell me how you feel about me.
I pay you in letting you paint me with what you want to say to me.
Through a painting, I'd let you say the most terrible things that anyone could say about me.
I love to ask you to say such terrible things about me. Why won't you ever tell me terrible things about me?
I wonder what you would paint, if I asked you to paint whatever you think about me. Of course, you painting exactly what you think about me could threaten your ever being asked to re-paint me. But this would not bar you from re-painting me.
And for the first time since I've known you, I wonder if you've ever—in the absence of me—painted me.
Have I been in your sketches? In your brushes? And in how many thoughts?
And I am under one or two spotlights in my show, and you are actually here, in Toronto, and I am reading this to the room, to the open wound of this group, and you are listening, and hearing, and probably panicking, and I'm terrified, my hands are shaking, my voice is shot and low, I'm praying, that you aren't really here, and I am pasteurized, and chastised, and havened.
But I'm high, and writing this in all within a twenty-minute moment of struck and shrunken and peeling eyes. If only you had enough interest in me to say terrible things about me.
I can only imagine the highs.
-November 2019